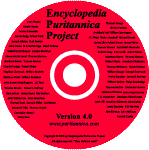 News:
---
14.03.03 - The EPP has released Kindle editions of many of its works! See our Mobile page for more information.
---
06.01.10 - Version 3.0 is available for purchase.
---
more >>>
Purchase
PRODUCTS

---
Customers can purchase directly from EPP or through one of our distributors. EPP offers an upgrade mechanism for customers who own older versions of the EPP CD.



Product
Price
Buy Now
Conditions
Version 3.0

$99.95
Version 3.0
Upgrade from 2.0

$19.95
Current 2.0 customers only.
Version 3.0
Upgrade from 1.0

$29.95
Current 1.0 customers only.


Additional payment options are listed below.

Shipping is $2.50 per order within the USA and Canada unless otherwise noted. Discounts for bulk purchases are available (please email us.)

UK customers may contact the EPP Representative for the UK (contact information given below). We are very willing to accommodate other international customers. Please contact us first to make arrangements.



PAYMENT METHODS

---
Check:



USA
and
Canada:
Payable to: "Steve Mouring"

13240 Windmill Way
Culpeper, VA 22701

epp@puritannica.com
UK:
TBD



Money Order: Same as above.


Credit Card: Available through a distributor listed in the table below.


DISTRIBUTORS

---
You can also purchase the CD (Version 3.0) from an EPP distributor.