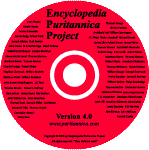 News:
---
14.03.03 - The EPP has released Kindle editions of many of its works! See our Mobile page for more information.
---
06.01.10 - Version 3.0 is available for purchase.
---
more >>>
Products
THE EPP CD

---

Imagine having ready access to scores of books written by Biblically Reformed men...

Imagine finding every page in a book where a particular Bible verse is used...

Imagine reading a book laced with Bible references and being able to refer to the Scripture texts alongside at the click of a button...


The EPP CD makes these things possible!


EPP has prepared digital texts from scores of books and enhanced them with extensive cross-references and interlinking. The result is formatted as web pages—essentially creating a huge web site on a CD. If you know how to browse the Internet, you can use this tool.



VERSION 3.0

---
The latest version of the CD is Version 3.0. It includes all the material from preceeding versions and much more.

More Information: